Description
Combi Van with roof top bed and dinette bed may accommodate 2 adults and 2 children or 3 adults depending on exact model. Please note this campervan does not have shower nor toilet.

We recommend that you use campgrounds for security while travelling in France.

A great campervan to tour Europe and it will allow you access to cities and small town in Europe.

This model is available for hire in Paris France and you may travel to all EU countries including Switzerland and Norway and some other countries on request.

Great fuel economy with a diesel engine so cost of fuel is at a minimum.
Details 

Chassis
RENAULT Trafic
Fuel
Diesel
Transmission
 5 Speed Manual
Front air conditioned
YES
Equipment
Awning
Seatbelts (Driving Cab)
YES (2)
Seatbelts (Living Area)
2 seats with seatbelt
AM/FM CD Player
YES
Average Consumption
10 – 11 litres per 100 KM
Exterior Length (m)
4.99
Exterior Width (m)
2.00
Exterior Height (m)
2.28
Dinette Bed Size (cm)
185 x 110
Top Bed
190 x 122
Water Tanks
Fresh Water Tank
45 l
Grey Water Tank
35 l
Shower
No
Toilet
No
Photographs 

Outside

Day Layout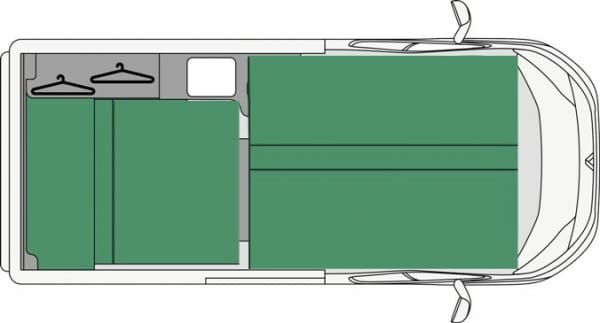 Night Layout
Additional Information 
Guaranteed newer vehicle not older than two model years. 80% of the fleet is refreshed with new vehicles each year. The remaining 20% of the fleet are not older than 2 model years.
Our rates include:
Tax (VAT)
Comprehensive Insurance (see Insurance) in Term and Conditions
Unlimited mileage
Vehicle kit (water hose, jerry-can, electric cord, broom + dustpan, clothes hangers)
Cooking utensils
Tourist information (road maps, list of campgrounds, map of Aires de services [service areas])
Regional suggested itineraries (Brittany, Loire Valley)
Outdoor cleaning after return
Minimum charge is 7 days – Even if the motorhome is needed for a shorter period, we will charge 7 days.
When collecting your Motorhome, please allow 1-2 hours for transfer, including instruction on how to use the motorhome, processing of paperwork and inspection of the Motorhome.
Collection and drop off of all vehicles is from our depots only; we do not deliver Motorhomes to airports.
Transfers are available from Paris airports and railway stations.
Supplied with Vehicle
VEHICLE KIT
2 bottles of propane gas (one full, the other one half full)
1 fire extinguisher
1 water hose
1 jerry-can (20 liters)
1 electric cord + European adapter
1 broom + dustpan
5 clothes hangers
1 kit of spare fuses and bulbs
1 bilingual Users Manual
1 map of Aires de Services (=service areas)
1 guide of selected campgrounds in France
COOKING UTENSILS + DISHES
plates 1 can opener
dessert plates 1 corkscrew
glasses 1 bottle opener
bowls or mugs 1 frying pan
knives 2 sauce pans
forks 1 salad bowl
spoons 1 platter
tea spoons 1 strainer
1 potato peeler
1 kitchen knife
matches
These floor plans and specifications are intended as a guide. The rental company cannot guarantee exact specifications and layouts. We reserve the right to substitute similar or higher-rated vehicles.