Description – [back to top]
This is a compact model suitable for a couple or a small family with 2 children. Complete with shower and toilet, with excellent kitchen facilities. A turbo diesel engine for great fuel economy.
Details – [back to top]
Engine
3.0jtd
Model Year
2011
Sleeps
4
Seats
4
Awning
Yes
Radio
Yes
Aircon in Drivers Area
Yes
Aircon in Living Area
No
Cruise Control
Yes
Photographs – [back to top]

Outside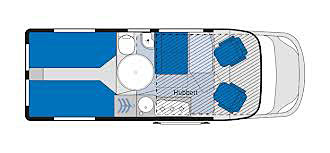 Layout

Inside

Inside

Inside

Inside

Inside

Inside
Additional Information – [back to top]
The vehicle can be rented by legal or natural persons; the driver must be at least 25 years old and must have a valid category B driving licence and at least 5 years driving experience.
These floor plans and specifications are intended as a guide. The rental company cannot guarantee exact specifications and layouts. We reserve the right to substitute similar or higher-rated vehicles.