Description – [back to top]
This award-winning motorhome continues to be one of the best equipped motorhomes for it range and the Shaker-style Montreal Maple furniture brings out the true warmth and richness of the beautiful interior design. This cozy motorhome has all the equipment that you would expect from a much larger motorhome with cab air conditioning, cruise control, spacious living area, modern kitchen and new sprung upholstery for that added comfort. It also has the added features a sun awning for those lovely hot summer days and a 3 carry bike rack so that you can explore the country air without having to move your motorhome
Details – [back to top]
Chassis
Boxer
Fuel
Diesel
Average Fuel consumption
35 mpg
Transmission
Manual
Engine Capacity
2.2
Power Steering
Yes
Front air conditioning
Yes
Rear air conditioning
No
Radio CD player
Yes
TV
optional extra
DVD
optional extra
GPS (specify model and coverage)
optional extra
Overall length (m)
6.72
Overall width (m)
2.24
Overall height (m)
2.90
Seatbelt front and rear
Yes – 4 full seat belts
Shower and Toilet
Yes
Heating system
Yes
Kitchen unit with stove burner
Yes
Refrigerator capacity (l)
92 ltr
Propane gas bottle(s)
6kg Propane
Internation Driving Permit Required
no
Photographs – [back to top]
Outside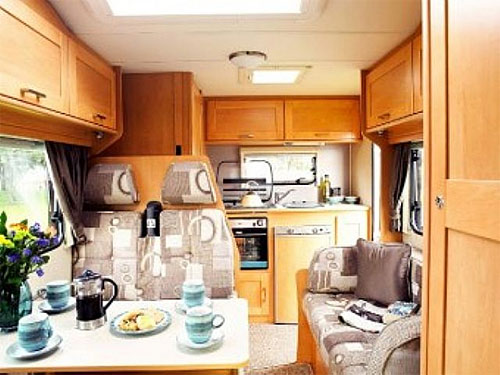 Inside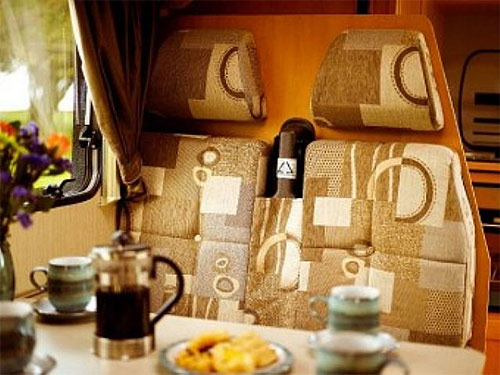 Inside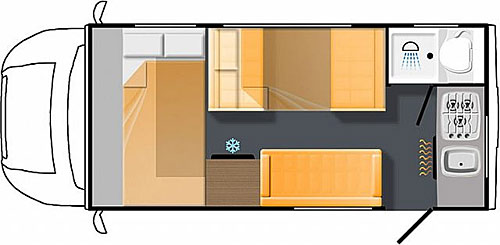 Layout
Additional Information – [back to top]
Motorhomes Come As Standard with:
Vehicle:
Diesel engine
Manual gear box
Power steering
Radio/CD player
Cab air conditioning
Cab central locking
Manufacture's alarm and immobiliser
Steering Wheel Stop Lock
Electric Front Windows
Habitation:
Air Heating & Hot water tank/system
On board fresh water tank
On board waste water tank
Washroom with toilet, hand basin and shower area with shower curtain
Kitchen with gas hob, grill, oven, fridge with freezer box and storage cupboards.
Wardrobe with hanging railOverhead lockers for storage
Under seat storage
All windows fitted with fly blind, night blind and/or curtain
All roof vents fitted with fly nets and/or night blind
1 x gas bottle
Roll-out Sun Awning
2/3 carry Bike Rack on most models (excl. 2 berth Ford Duetto)
Equipment List (supplied for the number of berth):
Mugs
Drinking glasses
Small Plates
Dinner Plates
Bowls
Egg Cup Holders
Salt and Pepper pots
Sauce Pans
Frying Pans
Kettle
Tea Pot
Tea strainer
Cheese Grater
Colander
Chopping Board
Draining Board
Knives, forks, dessert spoons and tea spoons
Tin opener
Corkscrew
4 piece utensil set
Potato peeler
Sharp Knife
Grill tray
Baking tray
Ice cube tray
These floor plans and specifications are intended as a guide. The rental company cannot guarantee exact specifications and layouts. We reserve the right to substitute similar or higher-rated vehicles.