Description – [back to top]
The Rollerteam 707 is a 7 Berth motorhome with 7 seats and 7 beds which provides many combinations for sleeping.
With bunks to the rear, a double and single at the front and a double bed over the cab you are spoilt for choice. The Motorhome also benefits from 7 seatbelts which means all the family can travel together to enjoy the wonderful experience.
Details – [back to top]
Year
2011
Range
Auto-Roller
Product Name
707
Number of Berths/Seats with Designated Seatbelts
7/7
Base Vehicle
Fiat Ducato
Overall Length
6990 / 29'3
Overall Mirror Width
2690 / 8'10"
Overall Width
2310 / 7'5"
Overall Height
3200 / 10'5"
Bed Sizes
SINGLE 1680 x 640 / 5'5" x 2'1"
Bed Sizes
DOUBLE 1820 x 1250 / 6' x 4'1"
Bed Sizes
DOUBLE 2160 x 800 / 7' x 2'6" (Bunks)
Bed Sizes
DOUBLE 2160 x 1680 / 7' x 5'5"
Photographs – [back to top]
Outside
Inside
Inside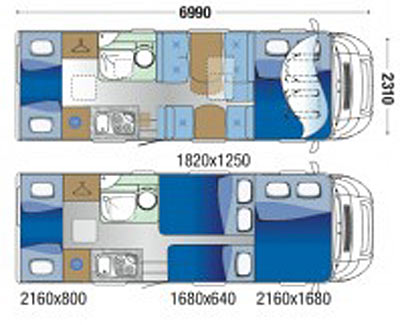 Layout
Additional Information – [back to top]
Hirers must be over 21(*) and under 75 years old and must have held a driving licence for a minimum of two years.
(*) Drivers between 21 and 25 years of age must pay an additional charge for insurance. You must add this charge on the EXTRAS page at Stage 2 of the booking process.
All hires include:
Compehensive Insurance (1 Driver 25+)
Breakdown Cover
Unlimited Mileage
Car Seats
TV/DVD inc Freeview
SAT NAV/MP3 Player
Full Gas Bottle
Electric Hook-up Lead
Water Filling Hose
All Cleaning Fluids including Toilet Chemicals
Full Kitchenware including Cutlery, Tea & Coffee
Bedding and Linen
Towels
Secure Parking Facility
Pick up from Luton Airport or Luton Train Station (Free of Charge)
Pick up from Heathrow, Gatwick, Stanstead, Birmingham Airports Free of charge for international customers only. (passport or airline ticket proof required)
These floor plans and specifications are intended as a guide. The rental company cannot guarantee exact specifications and layouts. We reserve the right to substitute similar or higher-rated vehicles.