Slovenia Motorhome Hire
Slovenia Motorhome Hire to book a Motorhome or RV, simply use our booking engine above for a quotation. You can email the quote to yourself for review, or you can proceed and book online, adding extras as you proceed through the booking process.
If you have any questions they may already be answered at our Frequently Asked Question's (FAQ'S) section.
Should you have any further questions about Motorhome Hire in Slovenia you can contact us via the telephone or email contacts on our web site.
Country Name: Republic of Slovenia; conventional short form: Slovenia
Capital: Ljubljana
Location: Central Europe, eastern Alps bordering the Adriatic Sea, between Austria and Croatia.
Climate: Mediterranean climate on the coast, continental climate with mild to hot summers and cold winters in the plateaux and valleys to the east.
Highest Point: Triglav 2,864 m
Languages: Slovenian 91.1%, Serbo-Croatian 4.5%, other or unspecified 4.4% (2002 census)
National Holiday: Independence Day/Statehood Day, 25 June (1991)
Currency: Euro, formerly the tolar (SIT). Change over in Jan 2007.
Slovenia Motorhome Hire and Slovenia (Slovenija) is a country in Central Europe that lies in the eastern Alps at the north-east end of the Adriatic Sea. Despite its small size, with Austria to the north, Italy to the north-west, Hungary to the north-east and Croatia to the south, Slovenia has a surprising variety of terrain, ranging from the beaches of the Mediterranean to the peaks of the Julian Alps.
Cities
Ljubljana – Ljubljana is a great little city full of charm. It's pretty easy to have a good time here. It is full of galleries, museums and young artists. The population of the city is around 330,000. The Ljubljanica river flows through the centre of town, past Baroque buildings and under the ramparts of the ancient castle on the hill. The new city core lies to the west of the river, while the east side has Ljubljana's old city and the castle. Connecting the two are a number of bridges, the most famous of which is the Tromostovje bridge.
Izola – Izola is an ancient Mediterranean town with a lively history. The old part of the town rests upon what once used to be an island. The fishing tradition is nowadays still present in Izola's tourist programmes and cuisine. The local specialities include olive oil and home-made vine. Positioned on the northern part of the Istra peninsula and having its own marina, the city remains one of the leading centres of nautical tourism.
Koper – industrial port city with a Venetian old city
Kranj
Maribor – Maribor is the second largest city of Slovenia. It has about 114000 inhabitants who live embraced in its wine growing hills and Mariborsko Pohorje. Located near Slovenian border with Austria, beside the Drava river and at the centre of five natural geographic regions. Places to visit include the Water tower (vodni stolp) – built in the 16th century; Mariborski grad (Maribor's castle) – built in the 15th century; and Lent – Lent is a district located at the waterfront of drava river. It's a beautiful place with lovely small avenues, restaurants and bars. Located in Lent is Stara trta (Old Vine) the Guinness Book-certified oldest vine in the world (about 400 years old) growing on the front of a house.
Nova Gorica
Novo Mesto
Piran – Piran is probably the most beautiful of Slovenia's coastal towns, perched on a tiny piece of land jutting into the sea. It feels more like an Italian coastal town, and for good reason: Piran was part of the Venetian empire from the late 13th century to the end of the 18th century.
Portorož – Beaches, casinos and package tourism
Ptuj – Ptuj has one of the best preserved and presented castles in Slovenia. The displays inside vary and include rooms with period furniture, displays on local music, the ubiquitous weaponry section and a wonderful display on traditional dress-up costumes including the magnificent Kurent.
Slovenj Gradec
Velenje
Other destinations Slovenia Motorhome Hire
Divaca – Site of the less commercial but no less impressive Škocjan caves
Dovje-Mojstrana – The best starting point for hiking and climbing to Julian Alps
Bled – Impossibly romantic mountain lake complete with castle and island
Radovljica – Old historical town, apiculture museum
Bohinj – Alpine lake
Postojna – Site of the gigantic Postojna caves
Triglav National Park – Home to Mount Triglav and mythical chamois Zlatorog.
Slovenia is a small country and getting around is generally quick and painless. However, the growth in car ownership has meant a reduction in public transport, and bus schedules in particular have been cut. Services are sparse on Saturdays and very limited indeed on Sundays.
Slovenia's train network, operated by Slovenske železnice (SZ) will get you to most destinations in the country, although there are some gaps in the network. Many routes require a transfer in Ljubljana. Trains are, however, some 30% cheaper than buses and return discounts are available on weekends.
Buses fill in the gaps, and may be a better option for some towns not directly served from Ljubljana by train (eg. Bled, Piran).
Slovenia's roads are for the most part well maintained and well sign-posted, and you won't have a problem if you drive or hire a car. Having a car certainly does add a level of mobility and self direction that you won't get by train or bus.
Language
Slovenian, the national language, is spoken as mother tongue by 91% of the population, but there are also significant Italian (concentrated on the Primorska coast) and Hungarian (in Prekmurje to the northeast) minorities. Most people you come into contact with as a tourist, especially younger ones, will speak English, and if not they'll almost certainly speak either Italian or German or both.
Food
Generally speaking, Slovenian food is heavy, meaty and plain, but with Italian, Hungarian and Balkan influences most people will find something to their liking. A typical three-course meal starts with a soup (juha), often just beef or chicken broth with egg noodles, and then a meat dish served with potatoes (krompir) and a vinegary fresh salad (solata). Fresh bread (kruh) is often served on the side and is uniformly delicious.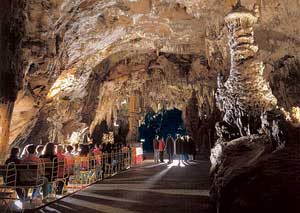 Uniquely Slovenian dishes are available, but you won't find them on every menu, so here are some to look out for:
Kraški pršut – air-dried ham, similar to but not the same as Italian prosciutto
Štruklji – dumplings which Slovenians prepare in 70 different ways stuffed with sweet fillings, meat or vegetables
Some Slovenian desserts can also be found:
Potica– a type of nut roll for holiday occasions also prepared with the widest variety of fillings.
Gibanica – a very heavy cakelike pastry of poppy seeds, walnuts, apples, raisins, cheese etc, topped with cream
Drink
In proper Slovene style, all bases are covered for drinks and you can get very good Slovenian beers, wines and spirits. Tap water is generally drinkable.
Coffee (kava) usually means a tiny cup of strong espresso, and cafes (kavarna) are a common sight. Tea (čaj) is nowhere near as popular and, if they do drink it, Slovenes prefer all sorts of fruit and herbal teas over a basic black tea.
Beer (pivo) is the most popular tipple and the main brands are Laško and Union. An inside tip would be Adam Ravbar beer, which is usually hard to find anywhere except in their small brewery. Ask for veliko (large) for 0.5L and malo (small) for 0.3L.
Despite what you might think, Slovenian wine (vino) can be quite good — they keep the best wines for themselves. A speciality worth sampling is Cviček, a red so dry and light it's almost a rosé. Wine is usually priced and ordered by the decilitre (deci, pronounced "de-tsee"), with a deci around one euro and a normal glass containing about two deci.
A Slovene brandy known as žganje, not unlike the Hungarian palinka, can be distilled from almost any fruit. Medeno žganje also known as medica has been sweetened with honey.
Activity Holidays at Slovenia Motorhome Hire
Activity Holidays at Slovenia Motorhome Hire
There are many great opportunities for activity holidays in Slovenia: The mountains and rivers of the Julian Alps provide the perfect location for hiking, mountain biking, rafting and kayaking.