By Leslie Brown
If …
… you are the adventurous type, and like exploring off the main tourist route, or
… you hate packing suitcases every time you wish to move to another city, or
… you want to stop and start wherever you like, or
… you want to shop in local markets and cook meals from fresh produce every night
then you should consider renting a Recreational Vehicle in Europe!
You will have great flexibility; if you want to move, you can move, if you want to stay, you can stay. If you hear of an interesting festival or place to visit while travelling, you can just go. If you find that you have arrived in a local paradise, you can stay. When you wake up in the morning, if you need a couple more hours, you can just turn over and go back to sleep – you are not forced to move, pack and check-out.
You are IN the landscape, you are IN the culture, you are IN the experience, part of the rhythm and flow of local life and experience. Read our frequently asked questions which explains Motorhome questions you may have
Stay in one of the many thousands of campgrounds situated all across Europe. All vary in price and facilities, and you can easily find the perfect location for your holiday.
These campgrounds generally have toilets and showers, a playground for the kids, and a basic family type restaurant. Beyond, however, the facilities of the campgrounds, is the social aspect. There will be lots of other families and adventurers there, all interested in the same things, with tales to tell, and recommendations of places to visit. Share a beer and a burger over a barbecue with new friends in the evenings, and grow the memories and the
experience.
You can find a lot of information about campgrounds across Europe on the excellent Alan Rogers Campsite Guide website.
Camping on the wild side …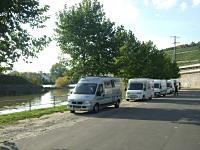 If you are the really adventurous type, you don't even have to stay in a campground. You can find a suitable place to park up almost anywhere. There are many such places all across Europe. However, it would be best to park in a restaurant or supermarket carpark, maybe, or many times small villages will have some area where people usually park. Whenever you choose to park in such a place, make sure that you look at the security of the location; a well-lit safe and secure place is obviously to be preferred.
RV Vacation Tips Europe In France and Germany, these places are known as Aires de Service and Stellplatz respectively. These can range in size from a small park in a village, to large areas in a city or beside a motorway. They are generally located in popular areas, such as city centers and near beaches. Some have extra facilities, such as dumping points for cassette toilets, water filling points, and electrical hookups.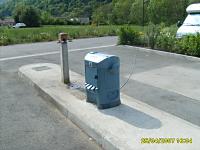 The great thing about these parks is their variety; they are placed in many different areas, so you might have a river beside one, or a fantastic view of the mountains, or be near a beach, castle, vineyard or museum. You will also usually find that they have excellent public transport links to help you get into nearby towns and cities stress-free.
The parks can be free, or a small charge may need to be paid; this is usually via a parking meter type device.
For more information, you can buy the Aires de Service Guide Officiel at Amazon.
France, in particular, is very camper friendly. It will be easy to find a municipal park or church parking lot where you will be made welcome to stay overnight.
 RV Vacation Tips Europe Which size motorhome is the best fit?
Obviously, there is no one-size-fits-all rule here, but there are a few simple rules of thumb that will make your holiday a more enjoyable experience.
Get as large a motorhome as your budget will allow; you will really appreciate the extra space! This is especially true if you are planning an extended trip. It is important, however, to understand that your motorhome is the means to get from one interesting location to another, and a place to eat and sleep at the end of the day, before heading off in the morning for another adventure. You should not expect to spend much time in the motorhome otherwise.
For convenience, try and book a motorhome with a permanent bed, either in the rear of the vehicle, or over the cab at the front. This means that you don't have to construct a bed at the lounge area at night, and take it apart again in the morning before you can have your breakfast.
A great advantage in a motorhome is when it has a garage. This is a roomy storage area that can be accessed by an external door. Some of these are large enough to hold a scooter! They make great places to store luggage.
A lot of suppliers hire bicycles, and you can transport them on a bike rack on the rear of the motorhome, or in the garage. A bicycle is an excellent way to explore a new location, and a very healthy way to travel, as well. You'll work up a huge appetite for the evening!
Another excellent tip relates to your luggage – as far as possible, when packing for your holiday, try to use collapsible bags and cases. If you bring hard suitcases, your motorhome may not have a cubbyhole that is the right shape and size to fit them, whereas a bag can be folded up and stored away much more easily. Motorhomes are specifically designed to have a lot of storage space, for example in lockers under beds, and small cupboards, cubbyholes, nooks, crannies and shelves almost everywhere you look.
While the smallest of the campervans might be cheaper, bear in mind that most do not come
with a shower or toilet. The convenience of having these facilities available in your own motorhome is something that should be considered carefully.
When you are choosing your motorhome, it is very important to carefully consider the kinds of places you want to visit on your holiday. If you are going to be visiting, and driving in, a lot of cities, you may prefer, and feel more confident driving, a smaller campervan. Motorhomes are very easy to drive, and you will quickly gain confidence, but a larger motorhome could be a little difficult to maneouver down the smaller roads.
Are Motorhomes economical?
RV Vacation Tips Europe, RVs and Campervans available in Europe all use diesel engines for fuel economy. They are pretty thrifty in their fuel usage; 25 to 35 mpg is certainly obtainable.
 RV Vacation Tips Europe are there minimum hire periods in Europe?
This will entirely depend on when you are wanting to rent your campervan. If you are looking to hire in High season, which is usually July and August, you can expect minimum rental periods of 7 days generally, while Germany High season minimums are 14 days. In the Off season, hires are generally required to be a minimum of 3 to 7 days, depending on the supplier.
Can I hire a motorhome in one country and drop off in another country?
Yes! A one-way trip is an excellent way to see a whole lot of Europe on one holiday, and it is certainly possible. There is lots of information on how to do this, including restrictions, available on the One Way Motorhome Hire Information Page.
What if I have more questions?
We have a very comprehensive Frequently Asked Questions (FAQ) page, where there is a huge amount of information. If you have more questions not covered in the FAQ, simply contact us, and we will be delighted to help.
©  WMHIRE LTD.