By Leslie Brown
Aussie Travel to Europe avail of our special discounted Campervan and Motorhome rental rates in Europe Europe is one of the top destinations for Australians travelling abroad for their holidays. However, with the current financial crunch, many governments in Europe are charging extra taxes on flights, to try and get some revenue.
Currently (September 2012), the tax for arriving flight passengers into the UK from Australia is a hefty UK£85, or just over AU$131, per passenger. This can quickly add up, especially if you consider that this tax doubles for first and business class, and also for premium economy.
Germany and Austria have also joined in, with taxes for travellers of EUR45 and EUR35 respectively. When you have to pay this amount for each passenger, this does add up.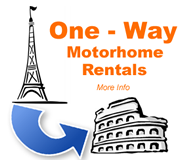 If you are wanting to make a one-way trip, or even stay in other parts of Europe, it is worth noting that our supplier in Paris offers one-way motorhome rentals. This means that you can pick up your motorhome in Paris, and then you can drive it to other locations in France, and drop it off there. In addition, the supplier allows for international one-ways, so you can pick up the campervan in Paris, and drop it off in other European locations. We have more information on these international oneways available on our one-way information page. This will allow you to see much more of Europe on your vacation!
With demand being high, it is best to book your motorhome at least 3 months in advance, with more time needed if you are booking a motorhome for high season.
Should you require any assistance please contact one of our European travel experts who will advise the best travel option for you. Our campervan travel company represents all the major motorhome hire companies and can give you unbiased travel advise that best suits your requirements.
We have a contact page which lists all the ways you can contact us at https://www.worldwide-motorhome-hire.com/contact-us/
Aussie Travel to Europe please contact us if you wish to avail of our long term discounted rental rates for Germany,Italy and Spain. You may travel to all EU counties including Switzerland.
For first time campervan travelers we have a resource page with many helpful articles about Campervan Hire.
© WMHIRE LTD.