Tour de France 2019 starts in Belgium
The 2019 Tour de France starts in Brussels on July 6th. It works it's way through north-east France and then south-west to Toulouse and the Spanish border by July 20th.
After several stages on the south coast and near Switzerland, the tour flies to Rambouillet for the last stage in Paris.
We have rental options in many locations through France, Germany, Holland, Switzerland, Italy and Spain.
We have been looking after our clients for over 20 years both teams and also enthusiasts following the Tour de France in their Campervans.
We are used to arranging the transfer of bicycle boxes and clients to different bases.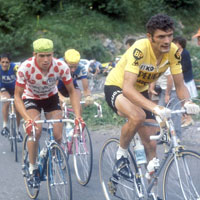 It is very important to book early for the Tour de France as it is in high season in Europe for Motorhome and Campervan hire.
The busy locations for Campervan hire in Europe for the Tour de France are Paris,Geneva,Poitiers,Lyon,Grenoble,Strasbourg,Toulouse, Nice, Marseille and Bordeaux.
Germany and the North of Spain with excellent options available in San Sebastian and Barcelona. Germany Campervan hire for the tour at Hamburg,Dortmund close to Belgium and Duesseldorf and Cologne. Motorhomes area available all down the Rhine valley to Switzerland.
We have excellent discounted Campervan rates at the moment so book now to avail of these rates.
Some one ways are possible within France choose either Paris or Marseille as a Motorhome pick up location.
Drop off then may be viewed in our booking engine. Paris to Marseille or vice versa.

Bring your bike
There are several options for a Motorhome with bike storage for those who like to follow 'En vélo'

These motorhomes typically have lots of room and features like Large rear double bed, Comfortable seating area with
side couch, Spacious floor-to-ceiling wardrobe, Bathroom that can be closed off to front, separate shower etc.