Frankfurt Germany Motorhome
Frankfurt Germany Motorhome, situated on the Main River. Frankfurt is one of the biggest and most important financial and transportation centers, not only in Germany but also in the world. Located in the South-West part of the country, the city is at the centre of the larger Frankfurt Rheine Main Region.
Frankfurt  Germany Motorhome is available from several rental centres in the greater Frankfurt area.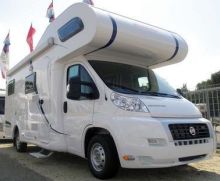 Due to it's central location there is a high demand for motorhome rentals. There are several depots servicing this area and providing campervans for hire. Unfortunately airport authorities don't allow motorhomes to enter to the airports' areas, so all pick ups and drop offs of the campervans need to take place in the depots which are located nearby Frankfurt International Airport. Thanks to this you can easily rent a motorhome and travel around Germany.
We can arrange a transfer from and to Frankfurt International airport in the south of the city to one of our rental depots please consult us.
We also have rental centres throughout Germany and nearby in Heidelberg on the Rhine.
Tips on renting a motorhome in Germany
Frankfurt Germany Motorhome offer excellent RV-Motorhome or Campervan hire rates for Frankfurt, Germany. To get a Motorhome hire quotation simple go to the Motorhome Hire section on our website and use our quotation and camper van booking engine.
Travelling with rented motorhome to the other countries in the European Union, including Switzerland is permitted. Other destinations are on request.
How to pick up a Motorhome campervan at Frankfurt Airport?
How much does a campervan cost to rent in Frankfurt Germany?

Germany has some of the best rental rates in Europe and has a vast choice of locations and vehicles to hire.
daily rental rates vary according to the rental season for Low to high season. daily rates range from 70 Euro to 230 Euro per day.

Do I have to hire a campervan for a minimum amount of days in Germany?

Rentals are for a minimum period of 5 days hire and a minimum of 10 days in high season July to about the 18th August.
You can rent for less days but you must pay for 5 days hire.

What days are Campervan Motorhome rental centres open in Germany?

Campervan rental depots open 5 and a half days with early closing on Saturdays at mid day. No service on Sundays.

Are pick up time strict or can I get a Motorhome rental in Germany out of hours?

All rentals are brought back in the mornings and cleaned and then pick up is generally from about 14.00hrs to 15.00 hrs to about 17.00 hrs in the afternoons.
If you wish to have a pick up in the morning you will have to rent the motorhome from the previous day and arrange to pick it up the next morning.
When you make a booking online you will be shown the depot pick up and drop back times that are allowed.

Can I have the campervan delivered to the airport in Germany?

The answer is no as some airports do not allow motorhomes into airports. Some suppliers offer a transfer from the airport to their rental centre for an extra charge.
You can alternatively arrange a taxi as the depot address will be supplied to you with your confirmation documents.

What type of driver's licence is required to drive a campervan in Germany?

Most Campervan's are under 3500 Kgs unladen weight and you only require a normal car licence Class B for all vehicles under 3500kgs.
If you are an EU citizen and have an EU drivers permit a class B licence is ok for all vehicles 3500 Kgs or under.
Otherwise if you are from outside the EU you will require an International driver's permit