Hannover Motorhome Hire has a range of 2 person to 6 person modern luxury campervans and RV rentals available in the Hannover location in the north central area of Germany.
Hannover is the capital of Lower Saxony and has a population of over 522.000 people. Famous for commercial expositions the city has the biggest fairgrounds in the world after expanding them for Expo 2000. Each year Hannover hosts over 60 international and national exhibitions.
Hannover's  Octoberfast is the second largest in the world.
One of the most popular places to visit in the city are large zoo, Royal Gardens of Herrenhausen and the Old Town with many interesting buildings. With lots of museums, theatres and cabarets there is always something to do in Hannover.
The city is also an important point on railway and highway lines crossing Germany. Hannover International Airport – also known as Langenhagen Airport is located 11km from the city centre.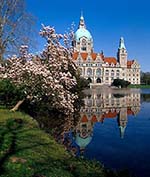 Renting a motorhome allows you to tavel easily from place to place also giving you accommodation at the same time. Campervans, as most of the bigger vehicles are not allowed to enter airport areas and therefore all pick ups and drop offs of the hired motorhomes need to take place in the depots.
Hannover Motorhome Hire offer excellent RV-Motorhome or Campervan hire rates for Hannover, Germany. To get a Motorhome hire quotation simple go to the Motorhome Hire section on our website and use our quotation and camper van booking engine.
Travelling with rented motorhome to the other countries in the European Union, including Switzerland is permitted. Other destinations are on request.
Contact us if you have any queries or you require advise from our motorhome  travel experts