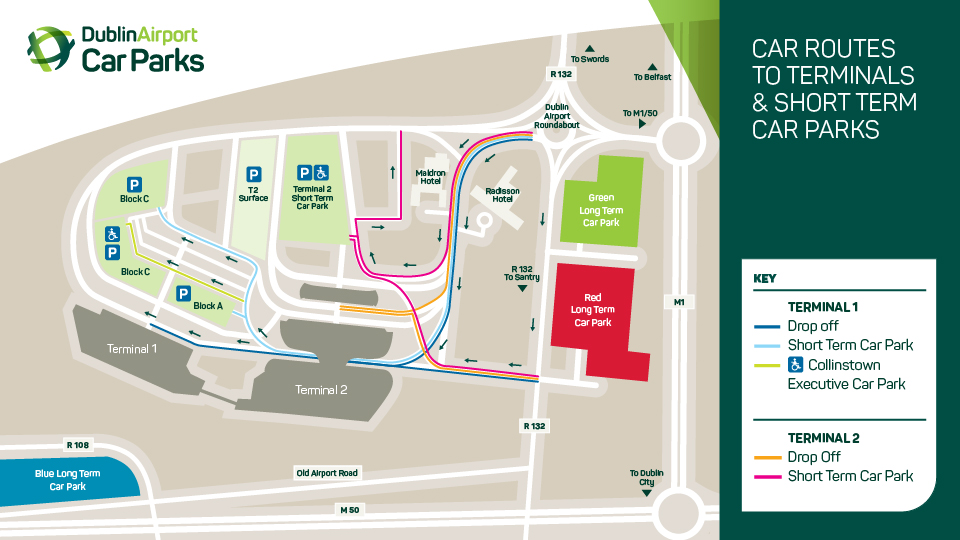 Campervan Dublin Airport is available at the local rental depot on the perimeter of Dublin airport.
Dublin is the capital city of Ireland and is situated on the east coast mid way between Wexford and Belfast.
Dublin is serviced by new motorways between Dublin to Belfast, Cork, Galway, Limerick,Shannon Airport and Waterford. This motorway infrastructure allow rapid access to the beautiful Irish countryside with the minimum of effort.
The airport handled 35.5 million passengers in 2018 and number are increasing rapidly. A second runway is now being build to handle the increasing numbers.
There are two terminals at Dublin airport so please note this as each terminal is serviced by different airlines.
Terminal 1 is serviced mainly by low cost airlines. Most short haul flights will come through Terminal 1 with the exception of Aer Lingus.
Terminal two which is new caters for Aer Lingus and most long haul flights to the US and Dubai and the far East.
US Pre Clearance at Dublin Airport
US Preclearance in Ireland allows US-bound passengers to clear all US entry controls (immigration, customs and agriculture) prior to departure, such that on arrival there they have the same status as passengers arriving from a US domestic airport and thus face no further entry controls. This facility is very advantageous for Dublin airport as many passengers now use Dublin airport instead of some busy main UK airports.
Campervan Dublin is situated adjacent to Dublin Airport terminal building.
Simply get a taxi to the rental centre nearby it will be less than 10 Euro.
Dublin Airport Ireland campervans if you would like to rent a Motorhome or Campervan in Ireland for your holiday, we have several suppliers in the Dublin area.
Dublin Airport to City centre transport alternatives.
Aircoach is another bus service from Dublin airport to the south side of Dublin city centre to the Hilton Dublin Hotel.
Route 700: Dublin Airport to Dublin City Centre
Route 700: Dublin Airport to Leopardstown/Sandyford
Route 702: Dublin Airport to Greystones/Bray
Route 703: Dublin Airport to Killiney/Dalkey
Route 704 X: Cork – Dublin City – Dublin Airport Express
Route 705 X: Belfast – Dublin Airport – Dublin City Express
The Airlink which is operated by Dublin Bus the route number is 747. This bus transfer is an express service that goes from the airport to Dublin's main bus station Busaras. Then to O'Connell Street in the city centre and finally to Heuston, one of Dublin's main train stations. Buses are frequent departing every 15 or 20 minutes, from 5am to 11.30pm (11.20pm Sundays).
Taxis are available outside the terminal building and will take you direct to your hotel or on to central Dublin prices are about 25 to 30 Euro depending on how many passengers.
Dublin Campervan Hire
What Motorhomes are available at Dublin airport?
We have a selection of Campervans from modern turbo diesel models ranging from 2 person to 6 person vehicles.
I want to do a holiday around Ireland in a small campervan with my wife what do you recommend us to book?
You may book a 2 or 4 person camper all the vehicles come complete with showers,toilets and central heating and hot water. You will have a ll the modern conveniences with fridge and cooking facilities.
Will I get an up to date Campervan model?

Our Motorhome or RV fleet is under constant renewal about 50% per year and we renew our fleet every 2 years.
Is there lots of availability for campervans and Motorhomes in Ireland?
We have campervan hire available at Dublin,Belfast, Limerick we can also service Cork, Shannon and Kerry airports. Availability is very limited in high season mid June to early September and Easter holidays. for these busy periods we recommend you book many months in advance.
Are Campervans easy to drive from Dublin?
Yes in fact after about 15 minutes you will be used to the driving position. You will be given full instructions on the hand over how to manage all the devices and heating on board. How to refill water tanks.
Can I visit the North of Ireland in a campervan?
Yes there is a Motorway direct to Belfast from Dublin the M1 it will take you to Belfast and on to Bushmills and the Giant's causeway in county Antrim.
Where does the Wild Atlantic way start and end ?
The Wild Atlantic Way is from Derry in the North of Ireland and runs down the west of Ireland coast and finishes in Kinsale county Cork.
However the whole coastline of Ireland has many treasures to offer.
What about cycling in Ireland?
Bicycling routes are available on old railway lines that are no longer in use. There are two fantastic greenways one in Westport county Mayo to Achill Island which is magnificent on a sunny day and should take about 4 hours. You could take a bicycle or anew electric bicycle from Westport and drop it back in Achill island. You can be transferred back to your original starting point by the cycle rental company.
Visit Waterford Greenway a 46 Kms adventure in a Motorhome
This greenway is from Waterford city centre along the old Waterford to Mallow railway line to Dungarvan town centre about 46 kms.
Take in sights along the way by the Suir river to Mount Congreve world famous gardens.
Visit Kilmacthomas mid way for a lunch stop and on look on to the beautiful unspoiled Comeragh mountains.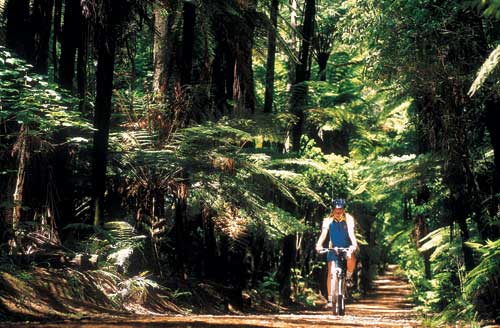 Where do you recommend to visit on the Wild Atlantic Way in a Campervan?
The amount of places you can visit are too numerous to mention in a Campervan in Ireland.
The Wild Atlantic way is over 2700 kms long and it would take you a month to cover it at your leisure. You really need really to visit part of it for example Visit Galway. Then out to Cliftden and the burren area of Connemara. Or take in Donegal in the extreme North West of the country. Best not to forget west Cork and Kerry with the lakes of Killarney and the ring of Kerry. You have three areas here of the Wild Atlantic Way. We would recommend you visit one area and enjoy it.
What does a campervan cost to hire in Ireland?
Prices vary according to the hire season and size of the Motorhome. Budget 80 Euro per day to 200 Euro per day depending on the size of the Motorhome.
Can I hire a campervan in Dublin or Cork for a weekend?
The minimum rental ranges from 4 days in winter to 5 days in the spring and autumn and 7 days in high season. You may drop back the motorhome early but you must pay the minimum rental days.