Campervan Bologna Airport is at Bologna Guglielmo Marconi Airport is situated 6km to the northeast of the city centre. It is also located about 200 km east of Milan. The airport continues to enjoy growth and Ryanair and several low cost airlines are expanding their frequency to Bologna-Marconi Airport.
Bologna marconiairport is about 6km from Bologna Centrale train station. There are frequent buses from the airport to the station which take 20-30 minutes, or you can take a taxi.
The station is about 1.5km to the very center of Bologna, about 20 minutes walk. And yes, most attractions are in the center and can be reached on foot.
Campervan Bologna Airport offer excellent RV-motorhome or campervan hire rates for Bologna-Marconi Airport, Italy. To get a motorhome hire quotation is easy; go to the Motorhome Hire section on our website and use our quotation and campervan booking engine.
Campervan Bologna Airport we offer a delivery service to and from the airport from several locay suppliers. Just choose Campervan Bologna Airport at our booking engine and the software will factor in the cost of delivery and collection at Bologna Marconi airport.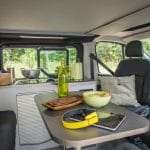 Allow an hour for getting through the airport and our driver will meet you in the arrival's hall and you can be on your  holidays in fast time with no stress.
You will need to book well in advance for high season and also for any Motorcycle event at locat racing tracks.
More Information
Bologna-Marconi Airport Italyhttps://www.bologna-airport.it – lots of useful information about flights, airport, parking facilities and many more.
Regional Trains Italyhttps://www.ferroviedellostato.it – You can get rail information, train schedules, and purchase tickets here.
Tourist Information Italyhttps://www.touristinfo.it – Very useful website with lots of information for tourists visiting Italy.
Should you have any further questions about motorhome hire in Italy you can contact us via the telephone or email contacts on our website.