Rapallo Campervan Italy
Rapallo Campervan Italy is located near Genoa and also close to Portofino. Rapallo is a pleasant harbour town overlooking the blue waters of the seafront. The town is built on a slight hill, with trees above the housetops breaking up the skyline. It is also the largest seaside resort town on the Italian Riviera, and it proves its worth as a holiday destination; good seafood restaurants, the castle in the sea, the harbour promenade, and the overall liveliness and charm of this town make it a wonderful start to your motorhome holiday. Don't forget to take a funivia ride to the top of the hill to Montallegro to see a spectacular view of this attractive area of the world.
When you are ready to leave Rapello and travel on to the rest of Genoa, and Italy, it may seem a difficult choice as to which way to go! Not only is all of Italy waiting ahead, but the rest of Europe is also available to you – there are no restrictions on where you take your campervan through the EU, all borders are open to you.
We offer excellent motorhome/campervan (RV in the US) hire rates for Rapallo Campervan Italy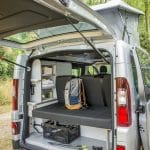 . To get a motorhome hire quotation, please go to the motorhome hire section on our website and use our quotation generator and campervan booking engine.
More Information at Rapallo Campervan Italy.
Please contact us at our contact page if you have any further queries.
Regional Trains Italy https://www.ferroviedellostato.it – You can get rail information, train schedules, and purchase tickets here.
Tourist Information Italy https://www.touristinfo.it – Very useful website with lots of information for tourists visiting Italy.
12 Facts About Booking a Motorhome – RV in Europe https://www.worldwide-motorhome-hire.com/articles/12-facts-about-booking-a-motorhome.html
Frequently Asked Questions about Campervans https://www.worldwide-motorhome-hire.com/faq
Should you have any further questions about motorhome hire in Italy you can contact us via the telephone or email contacts on our website.