Sienna Campervan Italy
Sienna Campervan  for the largest choice of Motorhomes online.Tuscany in Italy may be one of the most beautiful places on earth to visit. Famed for its beauty and noble history, Tuscany has many attractive cities, including its capital Florance, Pisa, and of course, Siena.
Siena (also called Sienna in English), is a true Tuscan hill-town, settled by the Etruscans some 400-900 years BC. It is surrounded by vineyards and olive groves that are so important to the Mediterranean diet, and its main sites are set against the hills and warm colours of this wonderful region. They include the great Duomo, or Cathedral, built to be the largest cathedral in existence when it was started in the 1200s. It contains the Gothic pulpit with the labyrinth inlaid on the floors. This was meant to be traversed by the penitents on their knees.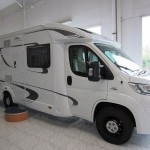 The city's gardens include the botanic gardens maintained by the university, lovely for warlking around on the warm afternoon and evening. For music-lovers, there is the Medicean Fortress, containing the Enoteca Italiana and the famous jazz school, which has a major outdoor and indoor festival in the nternational Siena Jazz Masterclasses. In addition to the bustling daily life of the streets and squares of this warm city, Siena offers many cultural events, concerts, theatre expeditions and a wide range of sporting activities.
Tuscany can't be so much described as experienced, and your motorhome will bring you everywhere you wish to go in this area. From the other main cities, Florence and Pisa, the world heritage sites (of which Siena's historic centre is one), the hilly and vivid countryside, to the western shores of Italy onto the Mediterranean, it's all there for the explorer to discover. If you manage to see all Tuscany has to offer (which is unlikely!), there is the rest of Italy, and Europe beyond to explore. If you wish to get this far, however, you may find you have to severely limit the time allowed to see this beautiful and peaceful area of the world.
We offer excellent RV-motorhome or campervan hire rates for Sienna Campervan . To get a motorhome hire quotation simple go to the Motorhome Hire section on our website and use our quotation and campervan booking engine.
More Information at Sienna Campervan
Regional Trains Italyhttps://www.ferroviedellostato.it – You can get rail information, train schedules, and purchase tickets here.
Tourist Information Italyhttps://www.touristinfo.it – Very useful website with lots of information for tourists visiting Italy.
12 Facts About Booking a Motorhome – RV in Europehttps://www.worldwide-motorhome-hire.com/articles/12-facts-about-booking-a-motorhome.html
Frequently Asked Questions about Camper Vanshttps://www.worldwide-motorhome-hire.com/faq
.
Should you have any further questions about motorhome hire in Italy you can contact us via the telephone or email contacts on our website.