Description – [back to top]
Enjoy the extra space in an expandable vehicle! Luxuriously accommodating 4 adults, the Pegasus RV also has the added feature of the slide out panel in the kitchen and living area, providing over 30% more living space. This vehicle has 2 large beds and the largest fridge/freezer of the fleet, the 3 burner gas stove makes self-catering easy.
Features
Automatic transmission
Slide-out section (most spacious vehicle on fleet)
Large fridge
Full kitchen
Large beds
Large Awning
Rear vision camera
Details – [back to top]
Make/Model
Fiat Ducato
Transmission

Automatic

Fuel/Engine Size/Power
Diesel/3.0L/120kw
Fuel Capacity

125 Litres

Fuel Consumption approx
14 Litres per 100km
Stereo Head Unit
Radio/iPod/iPhone/USB Dock
Dimensions Approx.
Length 7.90m
Width 2.40m
Height 3.40m
Interior Height 1.80m
Capacity
4 Adults
Seatbelts
Drivers Cab/Main Cab
2/2
Baby/Booster Seat
No
Bed Dimensions approx
2 Doubles
2.10 x 1.4m, 1.9 x 1.5m
Air Con: Drivers Cabin/ Main Cabin (240 Volt)
Yes/ Yes
Heating: Drivers Cabin/ Main Cabin (240 Volt)
Yes/ Yes
iPad Connectivity
Yes
Gas Stove
2 Burner, 1 Hotplate, grill & oven
Fridge Freezer
175L / Yes
Microwave (240volt)
Yes
Cooking Utensils
Yes
Crockery and Cutlery
Yes
TV & DVD Player
Yes
Shower
Yes
Toilet
Yes
Hot/Cold Water Supply
Yes
Water Tank
150 L
Waste Water Tank
150 L
Rear Vision Camera
Yes
Internal Walk-thru Access
Yes
Photographs – [back to top]
Outside
Outside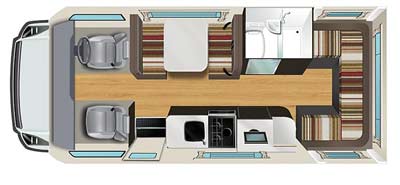 Day Layout
Night Layout
Inside
Inside
Additional Information – [back to top]
6 month Guarantee means that entire fleet is less than 6 months old. Promising a newer vehicle means customers can enjoy the latest in design, technology and reliability, delivering a superior and safer holiday experience.

Clients are offered new standard in customer service with a 5 Point Service Star.
Complimentary valet service.
Complimentary linen cleaning.
Complimentary taxi transfer to the value of $25.
Expedited vehicle pick up with online registration.
Expedited vehicle return with a simple key drop facility.

Hirers also have a peace of mind with the 24hour, free call, customer service line.

Quality fittings and design features enable clients to explore Australia, New Zealand and America in comfort and style. Flat-screen TVs, DVD players and iPod docking stations all come standard with these vehicles.

Rates Include
– Unlimited Kilometers
– Vehicles less than 12 months
– 15% GST
– Extra Driver Fees
– Easy check out and check in
– Personalised Vehicle Consultation*
– IPOD Dock
– Valet Service*
– Linen and bedding including Linen Exchange Service*
– Kitchen Equipment*
– Full Water Tank
– Gas Bottle Exchange Service* for hires of 14 days or more in length
– Transfer on day of pick-up and drop off from the Airport
– Tourism Radio

Valet Service
Customers on hire may visit any branch from the list provided whilst on hire to have their vehicle cleaned, oil and water checked. Clients must call 48 hours prior to arrange this service.

Freshly laundered linen bedding
Includes pillow, pillowcase, sheet and towel per person and one doona (duvet) per bed. Clients may also exchange
their linen and bedding during their rental at any Branch from the list provided. Clients must call 48 hours prior to arrange this service.

Gas Bottle Exchange Service
Every 14 days of hire clients can visit a Star RV branch to exchange their used gas bottle for a full gas bottle

Welcome Pack
Each vehicle is supplied with a complimentary Welcome Pack for the first night that includes some essential condiments.

General Equipment
Each vehicle is supplied with complimentary general equipment (such as pegs and clothes line, dustpan/brush, fire
extinguisher, bucket/hose and broom.

Kitchen and Personal Kits
Each vehicle is supplied with complimentary living equipment (such as bedding, cooking equipment, eating utensils, bath and tea towels.)

Campground Guides
Each vehicle is supplied with complimentary campground guides.

Personalized Vehicle Consultation
On pick up of the vehicle our staff will provide a complimentary vehicle consultation. This includes an explanation of all the interior and exterior features of the vehicle as well as driving tips
These floor plans and specifications are intended as a guide. The rental company cannot guarantee exact specifications and layouts. We reserve the right to substitute similar or higher-rated vehicles.