Description – [back to top]
Whether its four adults or a family with children, This 4 berth motorhome is the perfect vehicle for discovering those special places that will take your breath away. This fully self contained motorhome features sleeping space for up to four adults, a shower and toilet, flat screen LCD TV/DVD payer, security safe, gas cooking facilities, filtered cold water, hot and cold pressurised water, access between the driver's cab and the rear living area and an unbeatable view from the rear picture window.
Details – [back to top]
Mitsubishi Fuso with 3.9 litre turbo diesel engine
Power steering, electric windows and central locking
5 speed manual transmission
Radio and CD player in driver's cab
Air conditioned driver's cab
3 seatbelts in driver's cab and 2 seatbelts in rear cabin
Baby seat anchor points in both front and rear cabins
Access between driver's cab and rear cabin
1 double bed (upper 2.15 x 1.22 metres) and 1 king (rear 2.15 x 1.85 metres) or 2 singles (1.85 x 0.75 metres)
Shower and hand basin
Electric flush cassette toilet – 12 volt
Electric and gas heating
4 burner gas stove with grill
Microwave
Refrigerator with small freezer unit – 12 volt
Pressurised hot and cold water
Filtered water system in all models from 2007
Waste water tank
Flat screen LCD TV/DVD player
Extensive storage
Complete living equipment
Personal security safe
Photographs – [back to top]
Cutaway View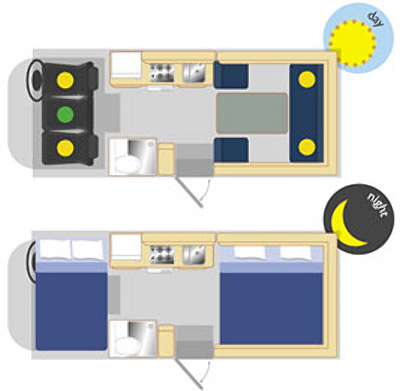 Layout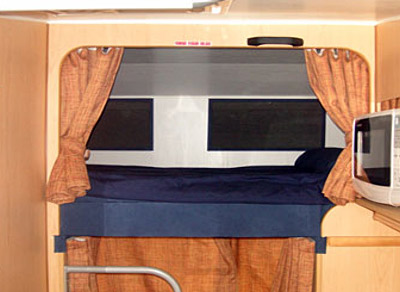 Inside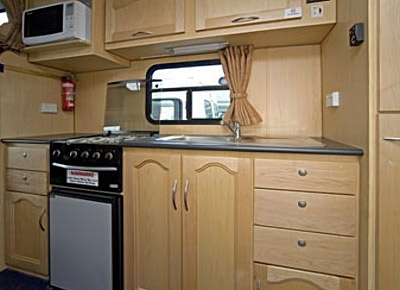 Inside
Inside
Inside
Inside
Additional Information – [back to top]
All drivers must be 21 years of age or older and hold a current valid drivers licence to be produced at the start of the hire.

What is included in the Standard rates
Free transfer on vehicle pick up from the airport and airport or city hotel to our depots conveniently located near the airport in Auckland and Christchurch
Free transfer on departure to the airport or airport hotel
Unlimited kilometres
Goods & Services Tax (GST)
Standard United Vehicle Insurance with a NZ$5,000 Bond/Excess
Diesel Tax/Road User Charge
Vehicle living equipment
Snow chains where required
Tyre repair and/or replacement
One way fees
Extra driver fees
Cleaning fees & pre-departure vehicle preparation
Supermarket Discount Card valid at almost 100 supermarkets throughout New Zealand
Complimentary United New Zealand Road Atlas
Complimentary Camping Park directories and other tourist information
Complimentary New Zealand Travel Guide incorporating a United Vehicle Instructions Manual
A freephone 0800 helpline providing 24 hour roadside assistance throughout New Zealand
What is included in the All Inclusive rates
All Standard Rate inclusions
Comprehensive United Vehicle Insurance cover with NO Bond/Excess
Picnic table and chairs (one chair for each person travelling)
Baby seat, baby capsule and/or child booster seat [if applicable]
Multiple windscreen replacement
Free Kiwi Holiday Parks V.I.P. Membership Card with a two year validity providing 10% discount at any Kiwi Holiday Park in New Zealand, or Top Tourist Park in Australia
These floor plans and specifications are intended as a guide. The rental company cannot guarantee exact specifications and layouts. We reserve the right to substitute similar or higher-rated vehicles.