Description – [back to top]
The incomparable family overcab. This model has more storage space and more room for a family of four to six in less than 7 m of length and, above all, less than 3 m of height.
Details – [back to top]
Transmission:
6+1 (manual)
Fuel tank capacity (L):
80
Chassis:
Ford Transit 350L
Superstucture:
Overcab
Engine:
2,2 TDCi (140 HP)
Maximum (per person):
6
Bed (person):
6
Beds:
1Double bed + 1Bunk beds
Garage:
Small
Length (mm):
6420
Width (mm):
2300
Height (mm):
2930
Total weight (kg):
3500
Dry weight (kg):
2888
Fresh water tank (L):
130
Waste water tank (L):
100
Gas cooker (burner):
3
ABS:
Yes
Cruise control:
Yes
Central locking cab:
Yes
Electric, heated rearview mirrors:
Yes
Electric windows:
Yes
Driver's airbag:
Yes
CD and radio:
Yes
Immobilizer:
Yes
Panoramic skylight:
Yes
Extra train heating (winter use):
No
Canopies:
Yes
Air conditioner:
Yes
Air conditioner 230V (living area):
Yes
Refigerator (230V/12V/gas) (L):
97
Heating system:
Airtronic gas turbine
Water Heater:
10 liters of gas
Safe:
Yes
Bike rack:
Yes
Photographs – [back to top]
Outside
Layout
Inside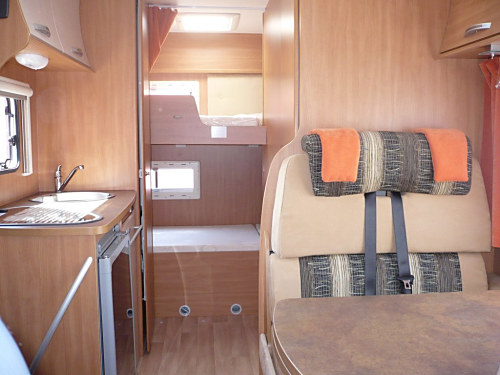 Inside
These floor plans and specifications are intended as a guide. The rental company cannot guarantee exact specifications and layouts. We reserve the right to substitute similar or higher-rated vehicles.