Campervan Hire Barcelona Spain
El Prat Barcelona Airport Motorhome airport is about 3 km (2 mi) from Barcelona, in the south east part of the city. There is a good bus service to the city centre from El Prat Barcelona airport as well as commuter trains. The airport is now serviced by many low cost carriers and it is a great location to gain entry into Spain as it has a vast number of daily flights.
Be aware that El Prat Barcelona Airport Motorhome can often be confused for Girona Costa Brava airport, located about 90 km (56 miles) to the north of Barcelona. Likewise, Reus Airport, situated 77 km (48 miles) to the south, is also a different location.
Note that Ryanair, a low-fares airline, refers to Girona Airport as Barcelona Airport.
El Prat Barcelona Airport Motorhome also hire motorhomes at both Reus Airport and Girona Airport.
We have several motorhome and campervan depots close to El Prat Airport. To avail of our excellent motorhome/campervan hire rates for Barcelona Airport (El Prat), please go to the Motorhome Hire section on our website and use our quotation and campervan booking engine.

It is possible to travel to all EU countries 28 in total with your motorhome rental; there are no restrictions. We would recommend the coast of Spain for it's beauty and famous beaches.
RV hire (US term), or campervan hire in Europe, is an ideal way to discover the long sandy beaches of Spain as you can use your camping car to stay at some remote locations.
Motorhome Driving Tours in Spain.
El Prat Barcelona Airport Motorhome also hire motorhomes at both Reus Airport and Girona Airport. To find out more, please follow the links.
The easiest way to get around Barcelona is by metro and bus. For 3 days we recommend the T10 multi-trip ticket much cheaper than buying individual tickets.

Places to visit in Barcelona on a Campervan Tour
1.Basilica of the Sagrada Familia
Buy tickets online to skip the huge queue, which can sometimes be up to 2 hours long.
There are less people in the morning, between 8-9 am, giving you more space to explore.
2 Las Ramblas
A must stroll along this iconic avenue the bottom part of Las Ramblas is the most beautiful – here you'll find small street markets, street artists and, of course, the harbor and the staue of Christopher Columbus.This street is expensive, so stick to browsing and treat yourself to a cheap fruit juice at La Boqueria market when you finish your walk down Las Ramblas.
Passeig de Gracia This is where all the upmarket and expensive brands can be found in Barcelona. As it is also lined with stunning modernist buildings.
At the very end of Passeig de Gracia, to the left, is a small garden called Jardins del Palau Robert. Entrance is free and it's a nice spot to relax in for a while.
Bogatell Beach Fancy getting away from the crowds visit the Bogatell Beach.Here are a few chiringuitos (beach bars) down on the beach that sell coffee and other drinks at very reasonable prices.
Tapas Bars Tapas, raciones, pinchos get into the side streets and enjoy the local bars and just eat your way around Barcelona. Whatever you call the typical dishes from Barcelona, each restaurant and bar has its own specialty.
Where can I hire a Campervan in Barcelona Spain?
We have several rental centres in the vicinity of Barcelona. Reus in the south and Girona in the North with their own airports offer alternatives to Barcelona. We have one rental centre very close to the airport and another rental centre which offer a transfer to their rental base in Sallent.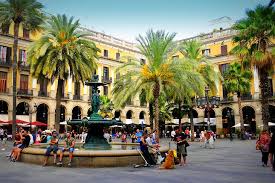 What size campervans are available for hire at Barcelona.
Sizes vary from 2 person to 7 person motorhomes. We recommend that you choose a campervan that gives you extra space maybe a 6 person for 4 people if on an extensive and long trip.
Can you collect me from our flight at Barcelona El Prat airport?
Yes if you supply us with your flight details we can arrange a pick up in most cases from your incoming flights during normal working hours.
What are normal office hours in Spain in the Campervan business
In Spain the day starts at 10 hours and there is a siesta 14.00 to 16.00 hours. Offices reopen again at 16.00 hours to 20.00 hours.
These are the normal office hours Monday to Friday with a half day on Saturday and Sunday is a holiday.
Is it possible to do a one way trip within Spain in a campervan?
You may travel between Barcelona-Madrid and Malaga with one way trips between these centres on a minimum rental period of 10 days hire.
Can I travel to France or Portugal in a Campervan from Spain
You may travel to all European countries 28 in total without any restrictions and deliver back the Motorhome to Spain.
Is it possible to do a one way trip from Spain to another European city ?
It is indeed possible to arrange a one way Motorhome
trip from Barcelona, Malaga or Madrid to other European cities. There is a minimum rental period of 14 day rental required. There is also an extra one way charge see the article on one way trips.