Description – [back to top]
The luxurious, amenity-rich 30-32 foot recreational vehicle, will make your vacation experience one you will never forget.This vehicle is suitable for 4 adults and 2 children. Every convenience you can think of – a refrigerator to keep your drinks cold and a freezer to store the sirloin steaks for tonight's barbeque dinner. For entertainment, you'll have a TV/VCR/DVD so you can watch movies, the big game, and the kids can entertain themselves

To insure your safety, the motor home has a powerful Ford V8/V10 with automatic transmissions and is equipped with a rear-view camera making your motor home easy to drive and maneuver. And just so you know, sinks, showers, furnace, hot water heater, stove and microwave as well as dual air conditioning will insure you'll be fresh and cool. And when you stop for the day, you can slide out the side of the RV and have even more room inside to enjoy the evening. An awning on the outside protects you from the weather – both sun and light rain.
Seat belts for 6 persons this vehicle is recommended for 4-6 people.
Details – [back to top]

V10 Gasoline Engine
6 Seat Belts
Automatic / Cruise Control
Dash And Roof AC
AM / FM Radio And CD
TV/VCR and/or DVD
Stove / Microwave
Fridge / Freezer
Sink / Shower
Flush Toilet
Furnace
Hot Water Heater
Generator
Awning
Slide-out Room
Rearview Camera System

Sofa Bed:
170 X 122 Cm / 67″ X 48″

Dinette Bed:
173 X 107 Cm / 68 " X 42″

Rear Bed:
190 X 152 Cm / 75″ X 60 "

Fuel Capacity:
285 L / 75 Gal

Fresh Water:
280 L / 74 Gal

Gray Water:
215 L / 57 Gal

Black Water:
155 L / 41 Gal
Photographs – [back to top]
Outside
Outside
Day
Night
Inside
Inside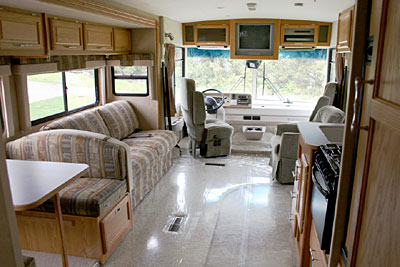 Inside
Additional Information – [back to top]
Convenience Kit includes the following items and can be purchased at Stage 2 of the Booking Process:
Comforter
Cover for comforter
Sheet
Pillow
Pillow protector
Pillow case
Bath towel
Hand towel
Wash cloth
Kitchen towel
Cleaning towel
Paper towel roll
Broom
Dust pan and brush
Cloth hangers
Flash light
Lighter / matches
Levelers
Glass
Cup
Dinner plate
Salad plate
Mixing bowl
Knife
Fork
Spoon
Teaspoon
Roast slicer
Cookware set
Can opener
Cork puller / bottle opener
Vegetable peeler
Turner
Basting spoon,
Grill fork
Whisk
Percolator / coffee maker
Measuring cup
Colander
Cutting board
Plastic containers
Toaster
This page is for illustration purpose only. Should a vehicle not be available for causes beyond the Supplier's control, the Supplier reserves the right to substitute models and will endeavour to offer the Customer another vehicle of the same type.
These floor plans and specifications are intended as a guide. The rental company cannot guarantee exact specifications and layouts. We reserve the right to substitute similar or higher-rated vehicles.