Germany offers the best value
Germany Motorhome Hire has the cheapest motorhome deals available in Europe, so if you are looking for a good deal, even if you are visiting other countries, consider renting and returning your motorhome in Germany for the best price.
If you are looking for a long term motorhome rental, try our engine, as we have built in discounts and special offers into the system, so you will get a great deal on longer breaks.
All rentals of campervans in Germany are available only by picking up and dropping to the same depot; it is not possible to do one-way rentals here. Most campervans are either this year or last years models, as all our suppliers maintain a very up-to-date fleet of motorhomes.
Early booking is essential, and also please note that there is a minimum rental period in High Season of 14 days. This is particularly important if you are considering attending Oktoberfest in Munich; please book early as the motorhome supply around Oktoberfest is very quickly snapped up. There is an excellent campsite at Munich, the Thalkirchen Campsite. You cannot prebook this, as it is operated on a first come first served basis, but there is always plenty of space. More information is available at Munich website.
In order to pick up your motorhome, you will need to get a Taxi to the depot. Full details, including the depot address, will be supplied in your booking confirmation email.
We also have a wide selection of campervans in our Frankfurt location.
PLEASE NOTE
There are no one way trips available – your Drop-off location must be the same as your Pick-up location
There is a minimum rental period of 7 days throughout the year for most depots.
There is a minimum rental period of 14 days in high seasons.
There are no Pick-ups or Drop-offs on Sundays.
Our Locations for Germany Motorhome Hire are
To book a Motorhome or RV, simply use our booking engine above for a quotation. You can email the quote to yourself for review, or you can proceed and book online, adding extras as you proceed through the booking process.
If you have any questions they may already be answered at our Frequently Asked Question's (FAQ'S) section.
Should you have any further questions about Motorhome Hire in Germany you can contact us via the telephone or email contacts on our web site.
Germany Motorhome Hire Adventures in Germany
By Leslie Brown
If you are planning a visit to Europe, perhaps the best place to start is Germany. Over our many years of working with suppliers all across Europe, we consistently recommend that our clients start their campervan odyssey in Germany. There are several reasons for this.
Why travel to Germany?
Germany is centrally located within Europe as a whole, so it makes it simple and easy to visit other European countries. You just get onto the Autobahn, and have a smooth, quick, direct path to wherever you want to go.
It should also be noted that, as long as we have been working with the major European campervan suppliers, the best prices have consistently been available when hiring in Germany. Renting a motorhome in Germany is definitely the way to go if you are on a budget.
The suppliers we have in Germany are consistently excellent, and feature at the top of our customer satisfaction feedback, time after time. The suppliers are very efficient, and the motorhomes are clean and well serviced.
Getting to Germany
It is incredibly easy to get to Germany as well, with flights from all over the world leading to the major cities such as Munich, Berlin, Hamburg and Frankfurt. Check your local listings, or have a look at airlines such as Ryanair and Easyjet. These low-cost airlines mean that you can get to Germany cheaply, and pick up your motorhome from the local depot. The depot is usually quite close to the airport, at most around 35 kms away. Transfers from airports are not possible, unfortunately, but just hop into a taxi, and get whisked along to collect your motorhome; no stress, no fuss.
Germany Motorhome Hire Southern Germany – The Alps and Oktoberfest
And just because you can visit all of Europe in a motorhome, (and we encourage you to do so!), there is also plenty to see in Germany itself. A country of contrasts, the experience in Germany starts with the Alps in the south, cloaked in the Black Forest, an amazing and beautiful landscape. If you are lucky enough to be able to manage a booking at the right time, Oktoberfest enjoyed in the south of Germany, especially around the area of Munich. We must emphasise, however, that if you would like to experience the Oktoberfest, you really need to book your motorhome early, as availability is strictly limited, and disappears fast. I had the good luck to be able to experience the fun myself in 2007. I wrote an article about it that you can read, "Campervan trip to Oktoberfest in Bavaria, Germany".
Germany Motorhome Hire Central Germany – Castles, Vineyards and Cruises
Then head north to the wine lands and magnificent castles of the Rhine and Moselle valleys. Some of the castles along the Rhine are amazing to look at, and you can visit many of them. More information is available on the "Castles, Fortresses and Palaces on the Rhine river in Germany" page. You can take a day-trip tour up or down the river; there are many suppliers. Most of these are one way trips, so you should plan for this. Many of these cruises allow you to take bicycles, so you can get on with your bikes at one end, enjoy the cruise, and then bike back home to your motorhome. Keep in mind that cruises heading upstream will take longer to complete, and downstream cruises are over faster.
Germany Motorhome Hire Northern Germany – Heath lands and Coastal Resorts
The north of Germany is mostly flat, with lovely heath lands around Hamburg, and beautiful towns like Luneburg. When you reach the cost of the Baltic, you will find many resorts stretching along the coast, all the way to the island of Rugen, in the east part of the state of Mecklenburg-Western Pomerania.
We would suggest, with the popularity of motorhome rentals in Germany, that you book well in advance, especially if your trip is timed to coincide with high season, which is in July and August, or if you want to visit festivals such as Oktoberfest, as noted above. Several months in advance should be the rule.
Some quick Road Tour suggestions, starting from from Frankfurt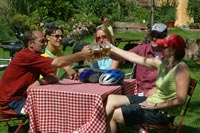 Frankfurt to Frankfurt via the Romantic Road taking in Heidelberg, Rothenburg, Dinkelsbuehl, Noerdlingen and Donauwoerth.
Travel from Frankfurt to the university town of Heidelberg on the banks of the Neckar River. Heidelberg escaped allied bombing during WWII, so it's architecture is intact and a joy to behold.
Turn off the autobahn at Wurzburg and take the route to Rothenburg ob der Tauber which is the best preserved medieval town in Germany, located on the Tauber river. This is also wine country and home to Franken wines. Wine connoisseurs note : most Franconian wines are dry and are should be drunk within 3 years. This town is a must visit location whilst visiting Germany, as it has it all; festivals, plays from the middle ages, guided walks, historic hotels and restaurants and traditional hotels.
Continue on to Nordlingen via Augsburg and end at the beautiful Bavarian castle Neuschwanstein built by King Ludwig II near Fussen overlooking the alps.
There is a very good campground called "Camping Brunnen on the Lake", with fantastic views of the Alps and Neuschwanstein Castle. More information can be found on their website.
Further Information Motorhome Hire Germany
If you would like more information, or would like to chat to us about your motorhome holiday, please feel free to contact us.
Germany Motorhome Hire Information
Location: Central Europe, bordering the Baltic Sea and the North Sea, between the Netherlands and Poland, south of Denmark
Capital: Berlin
Area: 357,021 sq km
Population: 82,398,300 (2003)
Language: German
Climate: Northwestern and coastal Germany have a maritime climate; warm summers and mild cloudy winters. Farther inland, the climate is continental, with warmer summers and colder winters.
Highest point: Zugspitze 2,963 m
Currency: Euro
Electricity: 230 volts, generally using a two round pinned plug
Drive: On the right
Germany is an ideal country for travelling by motor home or campervan.
It is more varied than can be imagined. Here, there is something for everyone; scenic Rhine river cruises, the annual Oktoberfest, local markets, cosmopolitan cities such as Berlin or Cologne or winter sports in the Alps. With so much to see and do, a visit to Germany is one you will never forget.
The road network in Germany is superb and, because camping and motor homing have been popular here for many years, campsites and roadside facilities are excellent.
Germany is centrally located within the European Union and it is possible to use your motor home or campervan hire to explore other countries by road or ferry. Countries such as France, Belgium, The Netherlands, Austria, Switzerland, Italy and Scandinavia are all at your fingertips.
Airports and ferries in Germany.
Tips for renting a Germany Motorhome  in Germany.
The main airports in Germany are located in
From Germany you can travel by ferry to
Norway
Sweden
Finland
Britain