SUNLIVING LIDO A43DK Motorhome
Description
This 6 berth vehicle has 6 sleeping berths; 2 double beds and bunk beds for 2 people. This vehicle is suitable for 6 adults. It has a shower, toilet and cooking facilities.
Details

Engine
Fiat Ducato 2.3JTD
Drive Cab AirCon
YES
Width
2300mm
Height
3110mm
Length
6550mm
Photographs
Outside
Layout
Inside
Inside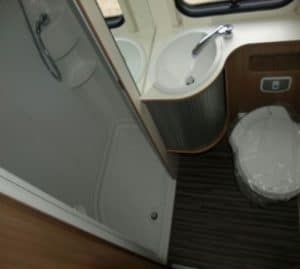 Inside
Additional Information 
Rates include local taxes VAT

All extra equipment is available and shown as you proceed through the booking process.

A full valid driving licence is sufficient for customers coming from EU member states; customers coming from countries outside the EU must have a valid driving licence issued in their country of origin integrated with an international driving licence. The hirer must be at least 21 years old and must have held a full driving licence for at least three years.

Travel to the following countries allowed
Belgium, Denmark, Finland, France, Great Britain, Ireland, Italy, Luxemburg, Netherlands, Norway, Austria, Sweden, Switzerland, Portugal, Spain, Andorra, Slovenia.

Other countries may be permitted on application.
These floor plans and specifications are intended as a guide. The rental company cannot guarantee exact specifications and layouts. We reserve the right to substitute similar or higher-rated vehicles.