Description – [back to top]
The Family Sport motorhome is ideal for 4 people travelling. Complete with a shower and toilet, and excellent cooking facilities. The front seats swivel to provide a cosy seating area.

There are two permanent double beds, one over the cab at the front of the vehicle, and another at the rear.

Please note that the layout given is a sample layout and is subject to change.
Details – [back to top]
Model
Ford Transit TD
Power
81KW
Seats
4
Sleeps
4
Total Weight
3.500KG (Ordinary Car License is fine)
Dimensions (L/W/H)
6,63 x 2,30 x 2,99 m
Bike Rack
Yes – 4 Bikes
Awning
Yes
Photographs – [back to top]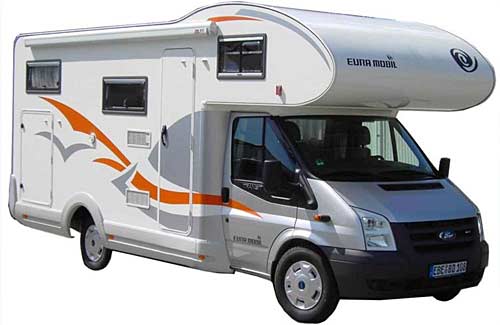 Outside
Layout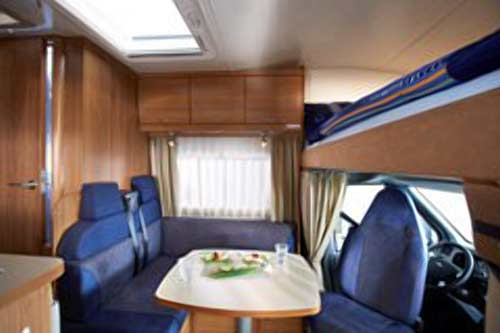 Inside
Inside
Additional Information – [back to top]
General Equipment
All vehicles are fully equipped, you only need to bring your personal items / luggage.
Unlimited mileage included in the rental
An emergency number provides help in case of a breakdown.
Equipment Details
All our vehicles have the following equipment:
stationary gas heating
(except group A, stationary diesel heating)
fresh water tank and waste water tank
seatbelts in living area and driver area
power steering
radio with cassette or CD player
electric cable drum and standard European exterior connection cable
water hose
two 11 kg propane tanks
(except group A: 2,8 kg propane tank/ group B: two 5 kg propane tanks)
adapter for the propane tanks (on request)
vehicle balancing bracket to be placed under tyre to level and/or straighten the vehicle if required
camping guide
kitchen with gas stove
(2 or 3 burners depending on vehicle size)
refrigerator
broom and dustpan
bucket
chemical toilet with chemicals
(except group A; no shower / no toilet)
shower (except group A)
sink (except group A)
A bike rack is available for this vehicle.
You will be given the option to hire it when you submit your reservation request onlineA kitchen set, a mobile navigator, bedsets (pillow slip, blanket, duvets and sheet), towels, child's safety seat, snow chains, bicycle rack, camping tables and chairs can be booked as "extras" during the booking process.
All vehicles must be collected from the main depot; there are no deliveries to airports or other locations. There are no one way trips allowed in Germany; you must collect your motorhome and drop it back to the same depot.
TRAVELLING ABROAD
A special authorization is needed if clients wish to travel to Eastern some Southern European states. This authorization has to be signed in the station when clients pick up the vehicle.
Entry to the following countries is allowed without authorization:
Andorra, Austria, Belgium, Denmark, Finland, France, Great Britain, Ireland, Italy, Liechtenstein, Luxemburg, Monaco, Netherlands, Norway, Portugal, Spain, Sweden, Switzerland
Entry to the following countries is allowed only with authorization in advance:
Albania, Bosnia-Herzegovina, Canary Islands, Croatia, Cyprus, Czech Republic, Estonia, Greece, Hungary, Iceland, Latvia, Lithuania, Macedonia, Malta, Poland, Serbia and Montenegro, Slovakia, Slovenia
Entry to the following countries is FORBIDDEN:
Belarus, Bulgaria, Iran, Iraq, Israel, Moldavia, Morocco, Romania, Russia, Syria, Tunisia, Turkey, Ukraine
For countries not listed here, please ask.
DRIVING LICENCE & PASSPORT
The Hirer and any other driver must be at least 21 years old. The Hirer and any other driver must be in possession (and present on arrival) their Class III / Class B or comparable national driving licence. They must have held this fully un-endorsed license for at least 12 months prior to the date of pick up. Drivers must also present their passports on arrival.
The vehicle may only be driven by the Hirer and the drivers named at the time of hiring.
These floor plans and specifications are intended as a guide. The rental company cannot guarantee exact specifications and layouts. We reserve the right to substitute similar or higher-rated vehicles.